Joan, remember !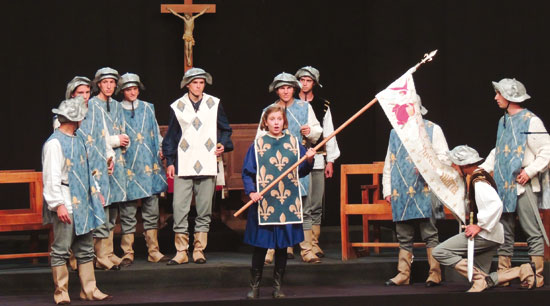 TODAY there is great distress in the Kingdom of France, even more so than long ago when she was under heel of the English or in more recent times under the heel of the Germans. Our country is the hostage of demons come out of Hell. Yet she remains the Kingdom of Jesus and Mary, just as the Church, despite an adulterous Council, steadfastly remains the Spouse of Jesus Christ.
Fr. de Nantes, our founder, likened the Covenant of King Jesus with France to that of Yahweh God with Israel, and the holy anointing of Charles VII at Rheims, following that of Clovis', to that of David's who was anointed by Samuel in Bethlehem.
The comparison can be reversed: Israel is the Church, and the consecration of Pope Francis on March 19, 2013, succeeding prevaricating popes, resembles that of Charles VII succeeding Charles VI, the insane king. The resemblance has far-reaching implications.
The Covenant of Christ and the Church is eternal. It has not been broken, not even by Paul VI, John Paul II or Benedict XVI, because God is faithful.
Pope Francis reveres his predecessors as David revered Saul, and as Joan revered Charles VII, even when he abandoned her to her enemies.
On May 24, 1431 the Dominican, Fr. Guillaume Érard addressed a " long and pompous sermon " to Joan in the Saint-Ouen Cemetery to coerce her abjure her Voices and her entire mission on pain of being burnt at the stake.
Before the pack of conspirators who joined him in voicing their assent, our saint was not at all terrorised. She remained steadfast, supported by Saint Michael, Saint Catherine and Saint Margaret, as in the past in the midst of the battles:
" My Voices said to me, while the preacher was speaking; 'Reply boldly to this preacher! "
Érard unrestrainedly insulted Charles and Joan: " Ah! France, how misled you have been, you the most Christian nation! Charles, who calls himself king, is but a heretic, a schismatic for having placed his faith in the words of a woman of low caste, disgraced and dishonoured. Not only should I say Charles, but all his clergy by whom she was examined, as she states, without having been reprimanded.
" Noble House of France, immaculate until now, what a pity it is to see what has become of you! "
This is how schismatics speak about the Roman Catholic Church today!
" Noble House of France, never have you produced monsters: here is one! He who claims to be your king and who intends to recover his kingdom by this heretic witch! House of France, how vile you have become! "
Seeing that Joan was not at all terrorised, Érard pointed his finger at her and violently shouted:
" Hey, Joan, I am talking to you, and I say to you that your king is a heretic and a schismatic. "
" By my faith, sire, saving your reverence, I dare say and swear to you on pain of my life that he is the noblest Christian of all Christians, and that he loves best the faith of the Church, and that he is not at all as you say. "
This is the only " oath " that Joan swore on that May 24, 1431, stresses Sr. Hélène, following Charles Boulanger who refuted the alleged " Saint-Ouen Cemetery abjuration. "
PETER IS BACK
My dear brethren, today this " oath " must swear once again, this time to Pope Francis, who is not looking after us any more than Charles VII looked after freeing Joan; yet notwithstanding this, I dare say and swear to you on pain of my (eternal!) life that he is the noblest Pontiff of all the pontiffs whom we have known over the last fifty years, and he loves best the faith of the Church, and is not at all as his detractors – integrists, Modernists, progressivists, or would-be " traditionalists " – say.
To be convinced of this, one only have to listen to his " sermons, " daily homilies, Wednesday catecheses and Angeluses. For example, the Angelus on the feast of the Assumption, last August 15, on Saint Peter's Square:
" At the end of Her earthly life, " Pope Francis said, " the Mother of Christ was assumed body and soul to Heaven, that is to say, into the glory of eternal life, in full communion with God. "
Then he quoted the Magnificat in which Mary expressed how " fully aware " She was that " through Her, all that Her people were expecting " was brought to fulfillment.
By these few words, Pope Francis atoned for the words of his " emeritus " predecessor who stated that " to talk of the ascension into Heaven or of the descent into Hell reflects, for our generation, awakened by the criticism of Bultmann [a Protestant theologian], a three-story image of the world that we regard as mythical and as definitely obsolete [...]. It is no longer possible to speak of 'above' and 'below,' of 'left' and 'right,' the cosmos no longer gives us any fixed directions. "
To shatter this " pseudo-scientific apparatus " it sufficed for Fr. Georges de Nantes to pose a question: " Has gravity disappeared? "
The formal heresy of Pope Ratzinger consists in abjuring what he called " this concept of a three-story world, " which had provided " the images whereby the Faith has represented these mysteries. " Our Father put forward an unfailing Catholic, Apostolic, Roman Faith against the Second Vatican Council, which opened the Church to this invading heresy among so many others, according to the directives of John XXIII who stated that " the deposit of the Faith is one thing, and the way in which it is presented is another. "
Really? " I shall believe Ratzinger when I see him in Saint Peter's Square, watched by his thirty collaborators at the Holy Office, fall into the sky and disappear in a cloud, thus proving that 'above and below' are fallacious, outworn concepts responsible for the Church's stupid faith these last two thousand years in the real miracle of the Ascension [and of the Assumption] and in its divine mystery signified by this very miracle, " which our Holy Father, Pope Francis reaffirms today.
Following the example of Saint Joan and Saint Thérèse, twin sisters, so to speak, we will not abjure our commitment to the divinely ordained Catholic monarchy and our faith in the divine vocation of France which, today, is in the hands of fiends, any more than we will abjure our unshakable faith in the Roman Catholic Church, the spouse of Jesus Christ, whose lieutenant is Pope Francis.
This is our faith in God's " fidelity " to His own word, to His own Heart, and in the almighty grace of God in Jesus and the Virgin Mary, through Saint Joan of Arc, Saint Thérèse, Saint Catherine, Saint Margaret, and Saint Michael. We know that, with the help of the Immaculate Heart of Mary, it is our task " to pray, to contemplate and to love the most unique Heart of Jesus and Mary, " as our Father exhorted us to do, " in order that Their will be done according to Their decisions, at the hour they ordain, by the means they ordain. As for us, we have a place as very humble servants and victims, if God accepts that we share in the sacrifice of the saints for the salvation of France and the Church. " This is a logion.
That was on May 30, 1996 on the eve of the tragic events that would lead our Father along this path that he is now inviting us to follow, from Heaven on high, where his soul has re-joined Joan and Thérèse, awaiting the resurrection. So be it!
Brother Bruno of Jesus-Mary.