He is risen !
N° 219 – March 2021
Director : Frère Bruno Bonnet-Eymard
---
"Saint Joseph will be their great protector
and the Virgin Mary, their Mother."
WE celebrate Saint Joseph, in this month of March 2021 (the month of the publication of this article in the French edition), which is dedicated to him, in two respects: by tradition and on the initiative of Pope Francis, who has proclaimed a jubilee year under the patronage of this protector of the Church, protector of large, Christian families, the patron saint of childhood. Saint Joseph has great power over the Heart of Jesus, his son. Thus, with divine piety, paternal mercy and tenderness, Saint Joseph turns his attention to us and says: "Do not despair, I am here, I am praying for you."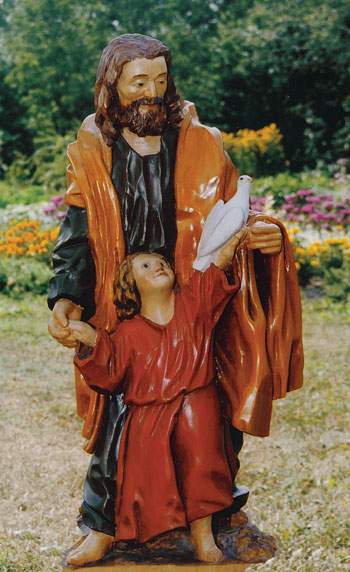 Never have the forces of Hell been unleashed to such an extent, never has the Church been so unconcerned about protecting souls, especially those of children. The Evil One is becoming more and more tyrannical, wicked, and coercive; he thirsts for the downfall of the good; and whoever declares war on him, is staking his all! The flock is abandoned by its shepherds on earth, and by the rulers whose duty it is to punish crimes!
We, however, do not have the right to be sad, depressed because Jesus and Mary are there, because Saint Joseph is our great protector. Let us appeal to God with confidence through the intercession of Jesus, Mary and Joseph.
"It seems to me," our Father said, "that one fine day, somewhere in the world, a shepherd or some other ignorant person will come forth to make known to the world that as long as we do not invoke Saint Joseph, we will not be saved, and that Jesus cannot resist the requests of the Blessed Virgin, and that the Blessed Virgin can but obey Saint Joseph because he is in command."
"God wants us to obey paternal authority that represents God the Father. Just as the Son and the Holy Spirit in Heaven obey God the Father in everything, because life proceeds from Him and because They are relative to God the Father. In the same way, God wanted there to be fathers, and society to be paternal; He made Adam the figure of Christ, and Christ is the head, the boss."
In Nazareth, for thirty years, Jesus was the One Who obeyed His father and Mother, the one whom He called His daddy in everyday life, and His Mother. The Son of God, the Creator of the universe, wanted to submit Himself to the Virgin Mary and to Saint Joseph. The Virgin Mary, the Immaculate Conception, the most perfect creature of all, wanted to submit Herself to Saint Joseph during Her entire life, out of obedience to God, but also with all Her heart, with all Her love, with all Her humility, with a deep sense of obedience according to natural law.
BETROTHAL
Joseph was a just, wise, and prudent man, diligent in scrutinising the Holy Scriptures, especially the Psalms and the Sapiential Books, and in trying to conform his life as closely as possible to God's will as signified in His law, in His counsels, in His particular precepts or inspirations.
Throughout his life, Joseph obeyed God's law, so much so that he was totally receptive, completely well-disposed to do the Will and good pleasure of his God. Abandoning himself as a child does in the hands of his father, Joseph was obedient to his Father and thus already, in that long, preparatory initial part of his life, he is truly our patron. Before being the 'patron of good death,' he is the patron of good life!
This man advanced in age, esteemed for his virtues acquired through daily struggle, who had reached a state of great holiness, was chosen by the parents of the Virgin Mary as the one who would be capable, if he so wished, of becoming the spouse of this holy child of fifteen, Who was so pure and so inclined towards the things of God, so pious, that She thought of only one thing: to consecrate Herself to God entirely and for life.
Our Father presented to us Saint Joseph's meeting with Mary as a mystical gift that 'abruptly' initiated Saint Joseph's soul to the intimate knowledge of God's love. In the same way as the children of Fatima two thousand years later, Saint Joseph was sanctified by this meeting with the Virgin Mary. The Immaculate Conception, in Her earthly state, could but radiate divine perfection and was an image of God that gave Saint Joseph a kind of illumination. Her face reflected the beauty of God, the perfection of God's holiness, of which She was truly the sanctuary. It was a dazzling experience for him: his ascetic chastity became a mystical, perfect and sovereign attention, an occupation, a disposition of his whole being to the presence of God in Mary, through Mary, with Mary, for Mary. When he met the most beautiful, the most perfect of creatures, the one most imbued with the glory of God, the beauty of God, the perfection of God, his heart rushed towards Her, so to speak, finding in Her the mark of God, the gift of God, or as Lucy of Fatima would say: "the light that is God." When Saint Joseph looked at Her, he devoured Her with his eyes. Why did he do this? Because She made the glory of God better known to him. When She looked at Saint Joseph, this so lovable, so respectable being, who already represented for Her the face of God Her Father, She loved him with all the love She has for God. The more they were together, the more their love grew.
Thus, after having left the Virgin at the end of their first meeting, Saint Joseph was so marked by this face, this power, this look that delighted him, that he had only one thought, like Bernadette at Lourdes: to see Her again! Why see Her again? In order to love God more, and to be always with the Virgin Mary so as to belong forever, through Her, in Her, through Her mediation, to God, and ever more!
As soon as he knew Mary, Saint Joseph's heart, suddenly full of supernatural ardour, was attracted by the virginity consecrated to God. It was a revelation that astonished him. It was the first osmosis of this marriage of souls, such that all the virginal virtue of Mary was now blossoming in Joseph!
"So She came to him as a fiancée. In a joyful illumination, Saint Joseph immediately welcomed Her as his little queen. They had given each other their virtues, and nothing else but this divine treasure, nothing human.
"Their life together had begun, not yet united but not at all capricious. It was obvious that She did not belong to him, and yet She loved him with an affection the immensity of which he dared not measure. It was, so to speak, infinite: She received him in Her heart in the same way that he had received Her as a gift from God. Her arrival gave him great joy, but he never held Her back. "I have a jealous and divine love for You. I have presented You to God as a pure Virgin." Saint Joseph before Saint Paul loved the Woman that God had entrusted to him, his heart inflamed with an ardent desire to offer Her, this house of gold, this ivory tower, this wonder of wonders, to God alone!
MARY'S HUSBAND
"The angel Gabriel was sent from God to a town of Galilee named Nazareth, to a Virgin betrothed to a man whose name was Joseph, and the Virgin's name was Mary. The angel came to Her and said, 'Rejoice, full of grace, the Lord is with You!' She was greatly troubled at the saying, and considered in Her mind what sort of greeting this might be.
"Then the angel said to Her: 'Do not be afraid, Mary, for you have found favour with God. And behold, you will conceive in Your womb and bear a son, and You shall call His name Jesus. He will be great, and will be called the Son of the Most High; and the Lord God will give to Him the throne of His father David, and He will reign over the house of Jacob forever; and of His kingdom there will be no end.'
"And Mary said to the angel: 'How shall this be, since I am a virgin?' And the angel said to Her: 'The Holy Spirit will come upon You, and the power of the Most High will overshadow You; therefore the Child to be born will be called Holy, the Son of God. And behold, Your kinswoman Elizabeth in her old age has also conceived a son; and this is the sixth month with her who was called 'barren.' For with God nothing will be impossible.'
"Then Mary said: 'Behold, I am the Handmaid of the Lord; let it be to Me according to your word.' Then the angel departed from Her."●
"One day, it was the day of the Annunciation, but Joseph was unaware of it, he saw Her transfigured and from that day on She stayed with him. She had said nothing, and yet everything had changed. He felt filled with grace, strangely sanctified as if by a goodness emanating from Her. She had recently become the Ark of the Covenant which radiated the whole divine Presence, and Saint Joseph was the first to be blessed as Obed-Edom had been in the past when he had welcomed the ancient Ark on his threshing floor! It was an illumination within Joseph. He was intoxicated with a new love. He wanted Her to stay with him. He would have liked to swear solemnly that he would guard Her from all perils, that he was ready to suffer a thousand deaths, but he said nothing, like the simple and the wise. His silence expressed even greater love and respect. I think, however, that he wept profusely that day, with joy, over his tools, his boards, in secret. He saw himself as the guardian of the Temple and no one could have touched his Queen without dying, certainly!
SORROWFUL MYSTERIES.
"It was then that trial struck him. The sorrowful mysteries of Saint Joseph began as soon as the Virgin left for Ain Karim. He thought it fitting that She should go to assist Her cousin Elizabeth. This time the absence pained him. It was an excruciating sorrow for his sensitivity, a death of every moment, a cruel anxiety, although in his strong and just heart he wanted only good and did not for a moment feel sorry for himself. How long those months were, and what solitude!
"When She returned, She was with child.
"Life went on, however. She did not speak to him about it. The fact that She had returned sufficed to infer that it was something holy. The return to an ordinary life of prayer and silence was tantamount to a clear revelation of Her inviolable, unviolated fidelity to Her double vow. He still loved Her, even more than ever, and with utmost admiration. He wanted to guard Her, to protect Her against all perils, being better aware of how fragile She was, yet so peaceful! In such a situation, he instinctively felt like a protector and foster father. Since he saw that She kept Her pure love for him, Her trust, and took refuge more resolutely than before in him, he was more aware of being Her spouse, in this mystery, in this common secret that was so overwhelming, yet so gratifying.
"It was then that his real calvary began, quite different from what one might imagine. The law of Moses was there, with its peremptory rigour, which he had not thought of at first, the very idea of adultery remaining so extravagant and inconceivable to him. Everything in his heart and mind urged him to respect this admirable motherhood, to share in the fervour and grace that flowed from the Heart, the face and the eyes of his Spouse, but the sovereign law of God ordered him to send Her away and even to denounce Her! This renunciation in blind obedience to God's signified will according to the common ways was an agony, a veritable dark night of the spirit. He was but an ordinary Jew and had to be careful not to act according to his own mind even where he sensed that good lies. In the absence of any particular revelation, of any dissuasive explanation, against even his torn sensibilities, O death more terrible than death itself, it was necessary to send Her away, and She, by Her silence, even seemed to approve of the decision that would hand Her over! The sacrifice of Abraham was nothing compared to this terrible decision; Saint Joseph, in the frightful solitude of the workshop where he took refuge, let out deep sighs and wept until his eyes smarted. Sometimes the Virgin heard, sometimes She saw, and yet She remained silent, keeping Her sovereign spiritual modesty and entrusting Herself to God, but this intensified Joseph's grief and he reproached himself for having made his Queen see something of it.
"Through the obstacles posed by nature, gradually winning its hard victory even over the purest feelings of supernature, the fair decision was making its way, day by day, towards the heroic denouement. Like Isaac, the child of hope, here was Jesus and His Mother, the entire hope of humanity – he felt it – the Holy Spirit was crying it out in his heart! – were about to take the fatal path. At his command, from him (!) to Her (!) such a command (!) they were going to cross the threshold of his abode never to return again.
"What was his life, his solitude, going to be now! He did not think about this, oblivious of himself and already grateful to God for this lost happiness. Yet what was to become of Mary and the Child, handed shamefully over to derision and sorrow, thrown into the maelstrom of the wicked world from which he had wanted to keep them! Yes, he was dying of sadness, of apprehension, at the thought of the mortal blow he was going to have to deal to his Immaculate Spouse in order to obey the Law of the God Whom they feared and loved much more than themselves. Mary at that hour appeared to him more holy than ever! He did not feel worthy to look at Her or touch Her sandals or Her cloak, and yet he was going to dismiss Her as though She were a sinner! Saint Joseph knew Her agony. Yet the Law was formal. He would do it.
"It was then that the Angel was sent, bearing a great light."●
FATHER OF JESUS
"The angel of the Lord announced to Joseph that he would be the father of Jesus. "Joseph, son of David, do not fear to take to yourself Mary, your spouse, for He Who is conceived in Her is the work of the Holy Spirit."
"There was no longer any need to hesitate or fear. When it was revealed to him Who this Child was and from Whom He came, a great joy filled his soul at the same time as a profound change took place in his mind. Let us understand that Joseph could not be jealous: what God conceives and accomplishes is not theived but offered to the heart and will of His creature! So let us not imagine in Joseph a kind of legal, social cover for the divine work, as if this man had accepted with the soul of a slave, to be God's double, whose role would have been to veil by a pious lie throughout his existence the reality of another paternity of which he would have had only the appearance. Alas! Usually our minds focus on such views! What a dismal deed for an angel, what humiliation for the frustrated spouse who is invited nonetheless to consent to and become an accomplice in a kind of spiritual adultery! What manoeuvres unworthy of God! Ah, let us cast this thought out of our minds forever!
"This radical change was, on the contrary, exactly the same as the one that had taken place a short time previously in Mary's virginal soul, and which had led Her to desire what God wanted, to devote Herself to the works of God as a humble Handmaid, to be specific, as a perfect Spouse! It was in such spiritual dispositions as these that Her body, sanctified and impregnated by this Spirit Who reigned in Her, bore the adorable Fruit towards which the sap of the human lineage had been rising for centuries. This same desire and will for salvation resounded also in Joseph's soul. The carpenter of Nazareth lived only for this expectation. It was what had kept him chaste and made him righteous throughout a life impassioned for God alone. He communed with Mary in this expectation and hoped with Her for the coming of the Son of David. The angel, with a simple word, directed this ray emanating from his heart to Mary's womb, to the Child Who was already vigorously and gracefully swelling that virginal womb. This recognition, this fixation of his deepest, most vehement, most complete love that he had ever experienced, was his personal act of paternity. This Son of man of Whom he dreamed, this advent of a God in the flesh, he had desired it more than any father had ever desired and known in advance the son he had begotten! Stronger than the instinct that leads man to places where sometimes he does not even want to go, and always to places unknown to him, this yearning for the Incarnation of the Saviour that was clear in his mind, that had been caressed a thousand times in his heart, discovered and recognised its Object in the womb of Mary.
"Joseph conceived this Child, of course not in the flesh – but 'the flesh is of no avail, it is the spirit that gives life!' He conceived Him in his soul and with his whole will, thus closely participating in the fatherhood of God Himself. Steadfast love and faithfulness would meet, as the psalmist sings, meaning the decision of God and the will awaiting the Just One. In this mysterious Fruit born in the virginal womb of his own spouse, Joseph now recognised the fruit of his prayer and his pious desires. Never had a man participated in the paternity of God as he had; never had a man wished to be a father and had in fact become one as had this man. He is at this moment the perfect model of fathers, those who give birth in the flesh for Christ and the Holy Spirit, not for corruption and death, and better still, those who give birth to Christ in souls, with an ardent spiritual paternity. He does not thieve his authority, his dignity from God; he does not encroach on the sovereignty and the domain of the Heavenly Father, but he receives in the Holy Spirit a share never equalled, never approached, of that active will which, in the Eternal, begets to the Father a Word similar to Him, and, in time, begets in the flesh of Joseph's Spouse, a Saviour God.
" 'You shall call His name Jesus.' This is the prerogative of the father. 'Why, you?' It is clear and true: the whole long hidden life of Nazareth rests on the reality that you are his father with God and that this is neither a lie nor a misrepresentation. You entered this vocation straightaway with unspeakable joy: this Child, Whom for the sake of His Mother you already loved in fear and trembling, now you discover Him as your own son, known from all eternity. It is He Whom you desired and loved with a love formed in you by God Himself, and Whom you now see formed from a virginal womb which is all yours, that by marriage has become your own flesh and the just instrument of your will. You were learning that in the divine wisdom it was your will, your prayer, united with those of your Spouse, becoming but one, at this decisive hour of salvation, that had been the ultimate human cause of the Incarnation. It was you, with God, who begot Jesus, in the womb of your wife, through a chaste and spiritual will!
"And behold, you were transformed: 'Joseph awoke from his sleep and did as the angel of the Lord had commanded him, and took his wife with him. Without having known Her, She bore him a Son, to Whom he gave the name of Jesus.' Let us listen to Bossuet, for he is incomparable: 'After Joseph's dream and the word of the angel, this holy man was changed: he became a father; he became a husband by the heart. Others adopt children: Jesus adopted a father. The effect of his marriage was the tender care he took of Mary and the divine Child.'
"This time, there was no longer shyness, no longer silence filled with emotions and withheld thoughts, and no longer that strange life together without intimate communication. Joseph awoke endowed with a sure and sanctifying vocation to fatherhood. He spoke to Mary. Then this humble Wife, Who had kept everything secret in order to remain in the state of subjection in which Her marriage had placed Her in relation to Joseph, wanted, in return, to make to him the full confession of Her Annunciation. Her virginal conception was now established in dependence on the divine paternity granted to Her husband. In Her humility, She still gave Herself the minor place of a handmaid for this great work of the Incarnation, and gave thanks to Joseph for having accepted, at God's command, to take Her as his Wife, and for having recognised Her delightful burden for his own Child. Joseph, for his part, in the fullness of obedience to his vocation as a father, did not object. He knew in his heart that he was nothing compared to Her, yet he clearly knew that henceforth, through him, the very authority of God would be exercised over Her and Jesus, the Saviour!
"Blessed is he who knows how to savour this mystery! Joseph and Mary found themselves more united after the ordeal than before. From now on, Jesus will be their bond. His father is Joseph, not by blood nor by the will of the flesh, but by the very vocation of God. Jesus belongs to him and is subject to him like the Virgin Mary Herself. It was the Creator Who made him a prince over His family and His entire household. It is through him, in the inspired judgement of Matthew himself, that Jesus is the Son of David! Let us also take to heart to live with Jesus, the son of Joseph the carpenter!"●
THE MYSTERY OF THE HOLY FAMILY.
In his sermon of March 19, 1994, our Father told us:
"In loving the Blessed Virgin, Saint Joseph was enamoured of the Child Who was in Her womb. She and He, this Child, are one and the same. The suckling Child, the Child Who kisses Her before leaving for school because She is His Mother. Jesus also kissed Saint Joseph, His father. When the Child was born at Christmas, the love of the Blessed Virgin became, in Joseph's heart, a fatherly love for this Child at the breast. No father ever loved his child as Saint Joseph loved the Child Jesus, because the Eternal Father's torrent of love for His Son Jesus Christ flowed into Saint Joseph's heart. Whatever our situation, in contemplating the mystery of this Holy Family, we find a model."
That is why Saint Joseph is our patron. He is the patron of the Church, of families, of our home. He is the model of family men, we are his children. He was given the task of caring for us just as the Blessed Virgin was given the task of caring for Saint John at the foot of the Cross, and in the person of Saint John, we were taken as adopted children by the Blessed Virgin. By the very fact we know that Saint Joseph takes us into his love.
We return to Nazareth every day at the moment of the noon Angelus. This is a meditation that our Father always practiced with great joy, even in the dramatic circumstances of a difficult life. May we resemble in all our families this Holy Family of Jesus, Mary and Joseph.
MUCH SORROW.
"Where there is love, there is no sorrow, and if there is sorrow, you love your sorrow."
From the advent of the Messiah promised by the prophets, pain is intermingled with this joyful mystery. One day, our Father began his homily on the Epiphany by saying, to our surprise, that the Magi returned, not to their region, regionem suam, but to my rest, "requiem meam." The slip of the tongue was doubly significant. Where did they return? "The Gospel says that Magi returned to their region, the place of their rest, theirs, not mine! If I insist, it is because it is true. They returned to their resting place. They had done the great feat of their lives. They had come from the depths of Arabia, from the desert of Chanaan, from Ethiopia, to see the Child. They brought them gold, myrrh and incense. They adored Him and they departed very happy.
"Then they entered their rest, leaving Saint Joseph and the Blessed Virgin with the consequences. Nevertheless, they had given Him great publicity; everyone is still talking about this event!
"Moreover, Isaiah had predicted it: this is the glory of Jerusalem. This is how it should be. There are people who are made for the happiness of others. Then, with a clear conscience, they go home. The consequences are for later. What consequences? We read about them in the second nocturne of Matins. It is all very well to do glorious deeds and retire to your tent afterwards, but there are others who drink the chalice to the dregs.
"It is said that the joyful mysteries accompanied the beginnings of the life of the Blessed Virgin, but I do not wish mothers the joyful mysteries that the Blessed Virgin joyfully celebrated.
"For example, the Nativity itself! What does Saint Leo teach us? God wanted to make known the birth of His Son in Bethlehem. He took great measures. Angels on Christmas Day are charming. God, however, thought that that was insufficient. So Herod gets in the way, and it is appalling cruelty. Well, according to Saint Leo, that makes for incredible publicity.
" 'Then also the Saviour was carried into Egypt.'
"God planned the whole thing very well. Herod was at the end of his reign; forty years of reign. Has the Messiah been born? He must be killed. Always killing, Herod spent his whole life killing! Cruelty of the most impious persecutor ever. Only the Saviour escaped him. Herod had not thought that an angel might appear to Saint Joseph.
"Come on, hurry up, pack your suitcase, take the Mother and the Child." In the third person: the Mother... of God, and the Child... of God! "Here is my poor Saint Joseph in what a commotion! 'Quickly, Mary, we must leave,' and he goes to the Egyptians. God says: 'It is wonderful, My Son is going to Egypt, just as in the past, the Hebrews spent a long time in exile in Egypt, and left something of their passage there. The Egyptians were pagans. They worshiped cats, snakes. My Son is going to visit them, something will remain and Egypt will be converted. It is a prophecy from Isaiah: 'Yahweh shall make Himself known to Egypt, and the Egyptians shall know Yahweh in that day; they shall offer sacrifices and oblations, and fulfil the vows they make to Yahweh. Although Yahweh shall smite the Egyptians severely, He shall heal them; they shall turn to Yahweh and He shall be won over and heal them."●
"Jesus does not waste His time! He will come back and it will be a sign, a secret grace, says Saint Leo, for the salvation that is near at hand, "that before Egypt had rejected superstition from its soul, it offered an asylum to the Truth!" Even before it was converted, even before it was preached to, it can be glorified for having given an asylum, a shelter to Jesus, Mary, Joseph, when they were persecuted." 
This is a sermon from 1996. At the end of the year, our Father himself would be exiled... to Switzerland! Thus he was able to sympathise with "the misery, the misery of our most beloved Mother, the Blessed Virgin, the misery of good Saint Joseph who was doubly worried: if it were only me, I would get used to it, but when I think of Her and the Little One! When I think that we are fleeing like criminals, forced to take refuge in a foreign country! What have we done to the good God? But the Good God is in your arms! What misfortune can befall us? This is how I meditate; I feel pity. It is ridiculous for me to have pity on the Blessed Virgin, but I cannot help it! And even more so for Saint Joseph!"
This is not "ridiculous" at all! It is precisely what the Child Jesus asked of Lucy in Pontevedra, on December 10, 1925, while the Blessed Virgin "placed Her hand on her shoulder, and as She did so, She showed her a Heart encircled by thorns which She was holding in Her other hand. At the same time, the Child Jesus said to her: 'Have compassion on the Heart of your Most Holy Mother, surrounded with thorns, with which ungrateful men pierce It at every moment, without anyone making an act of reparation to remove them.'
"Then the Most Blessed Virgin said to her: 'Behold, My daughter, My Heart surrounded by thorns with which ungrateful men pierce Me at every moment by their blasphemies and their ingratitude. You at least try to console Me.' "
Then She taught her the reparatory Communion of the five First Saturdays of the month.
"Poor Saint Joseph, poor Blessed Virgin! Oh, you are going to say to me: they are not to be pitied, they are in Heaven. Poor innocent children! Yes, they are in Heaven. But they are so close to us in love, they are so united in affection, that they are moved. They are alive, they have a heart that beats."
Jesus and Mary were resurrected in Their bodies and They are like us in Their hearts. Our deceased who no longer have their bodies, who are souls separated from their bodies, are buried in the Hearts of Jesus and Mary.
"So I pity them, Saint Joseph, the Blessed Virgin, I pity them, because they really suffered, and so did the Child Jesus. Since He is God, He knows everything, He lived the events like an adult, though to look at Him He did not appear to be one, and what is asked of us is to be touched. The Virgin Mary and Saint Joseph suffered, and we will consider the fact that, after two thousand years, they still suffer from so many insults and blasphemies that are hurled at them, the President of the Republic at the forefront! And we will do what the Blessed Virgin has asked. We will begin to atone, to regret for those who have no repentance and also for our own sins, our lack of devotion, so that the Blessed Virgin may have a few thorns plucked from Her Heart, so that She may breathe freely a little happiness and return to Her heavenly happiness after having bestowed graces on those for whom we pray."
FROM ONE SECRET TO THE NEXT
"The Blessed Virgin has just learned extraordinary things from the Archangel Gabriel, things that would drastically change Her life, disquiet Her, 'traumatise' Her, as we say nowadays, and She said nothing about it to the one who is closest to Her, Her fiancé, Saint Joseph, the man to whom Her parents had entrusted Her.
"Her parents knew of Her secret vow of virginity and sought to find Her a husband, but not to become the wife of a man in an ordinary marriage. The little Virgin consecrated to God needed a man to protect Her in life, if Her parents, already elderly according to tradition, were to disappear. Saint Joseph was this man chosen for his great virtue, acquired over the years, and not infused at conception like the Immaculate.
"Saint Joseph lived in a house of his own, while the Virgin did not yet live with him.
"Instead of joyfully telling him what had happened to Her, She told him nothing. She continued to live as before. She came and went, She kept house. When it began to become visible, Saint Joseph wondered what was taking place. Like Don Bosco later, he was guided by the angel of the Lord who appeared to him in a dream and said: 'Joseph, son of David, do not fear to take Mary your wife.'● This announcement of the miraculous birth of Jesus changed Saint Joseph's attitude. Before, he was only 'betrothed' to Mary●. Since She was expecting a child, no one knew from whom, he had to step aside. The betrothal was thereby broken off. Yet in view of God's plan, of God's will, which was made clear to him by the angel, Saint Joseph discovered that, instead of dismissing the Virgin, he was charged by God to protect Her by taking Her into his home as a true husband. Why? Because the Child is from God. This is the revelation that was made to Saint Joseph and that he could not have suspected."
A just and prudent man, he has the spirit of Counsel, a gift of the Holy Spirit. Since the Virgin Mary was entrusted to him, he cannot but be amazed at the perfection of this Child. She Herself admires him greatly and keeps silent about Her own affairs, which is quite astonishing.
Joseph did not think for a moment that She had been raped, because Jewish law made it the woman's duty to complain. But the Virgin was silent. Then Saint Joseph understood: the Virgin prophesied by Isaiah was Her! And he felt unworthy to live next to Her. When the angel said to him, "You shall call His name Jesus," He delegated to him the authority of God the Father over Jesus, the Son of God. Among the Jews, when a woman gave birth to a child, the midwife would place the baby on the father's lap. If the man was not sure he was the father, he refused to receive him. If not, by giving him a name, the father acknowledged his paternity. The angel Gabriel appeared to Mary and said to Her: "You shall call His name Jesus."●.
"When Jesus was born, the fact that Joseph and Mary named Jesus, each equally, if you will, showed that He was truly the Son of God, represented by Saint Joseph, and He was the son of Mary of the race of David. Here the two filiations are well-harmonised within this Holy Family of Jesus, Mary, Joseph true father of this Child, true husband of Mary."
THE HEART OF SAINT JOSEPH.
We have entered the mystical Heart of Saint Joseph, gentle and humble, whose love, so pure and so wonderful, comes through the ministry of the Immaculate Virgin Mary his spouse. He shares with Her God's secret: the Incarnation, a great mystery hidden from the eyes of men, but the existence of which he, the witness and protector of this marvellous birth of a God made man, is aware. He will derive no benefit from it other than that of a love more and more meritorious, more and more heroic, more and more glorious. For the Heavenly Father pours into Saint Joseph's heart all His divine Heart, to the point that he finds himself the image of the Heavenly Father, as a son resembles his Father. Our Father said that "Saint Joseph is truly a child of God, more than all others except Jesus and Mary."
Thus, on October 13, 1917, the children of Fatima saw Saint Joseph together with the Child Jesus blessing the world by "tracing the sign of the cross with their hands," which our Father compared to the gesture of a parish priest: "Admirable conciliation, admirable resemblance and imitation of Saint Joseph and the Child Jesus! We can see them, at that moment, perhaps as the King of the world and the patron saint of the Church, but we can also see them both as two children. I love to see them as two children! Saint Joseph, with his simplicity, is a big child! And the Child Jesus is the Child of God, the only Son of God, Who became a little Child to approach us. This big child and this little child, who are so similar, are the most precious treasures of the Virgin Mary and of the Church. They make a sign of the cross like a country priest or like a holy little child. They bless us!"
THE SECRET REVEALED
Jesus has a life of His own, a divine life, incomprehensible to mortals, beyond what He lets on through His life of obedience to His holy parents. At the age of twelve, Jesus goes with them for the first time to Jerusalem for the Passover feast. They offer the sacrifices, sing the psalms of the ascents, i.e. of the pilgrimages, over the course of several days, like us when we go to Fatima. Our Lady and Saint Joseph were certainly very fervent, but torn between joyful thoughts and others full of worry. When the parents leave, Jesus is not in the caravan, and when they realise this, they return to Jerusalem and search for him for three days – you can imagine the anguish! These three days are quite a symbol! Do Mary and Joseph sense this? "My son, where were you? Your father and I have been looking for you anxiously!
"How is it that you sought me? Did you not know that I must be in My Father's house?"
This word 'Father' is the same in the mouth of the Blessed Virgin and in that of Jesus. On the one hand, it is Saint Joseph and on the other, who is it?
Since the Annunciation, the Blessed Virgin and Saint Joseph knew that Jesus had no human father. He was the Son of God. In everyday life, however, for the past twelve years, He had looked as though He were an ordinary child, calling Saint Joseph 'daddy' and the Blessed Virgin 'mommy.' Suddenly, the Child revealed that He knew everything about His own origin: God is His Father in a very special, unique way. He obeys His Father Who is God. Saint Joseph is only God's servant and the Blessed Virgin 'the Lord's Handmaid,' like Her Son. From that day on, Jesus manifests Himself to His parents as the Son of God Who has come to earth to fulfil a certain mission, as an adult. He is no longer the child entirely entrusted to their care. He escapes from their hands to place Himself in the hands of God, His Father.
The Blessed Virgin and Saint Joseph understand that He does not belong to them, that He has a mission to fulfil and, enlightened by the prophecy of Simeon, they know that it will be a painful mission. Jesus is already entering His Passion. They returned to Nazareth, but nothing was the same as before. Jesus was no longer that easy Child. Those days are gone. He is a serious, concerned adolescent, absorbed not in a dream, but in His vocation, listening to His Father in Heaven.
He left the Temple, but He remained in the bosom of His Father. From that moment on, Jesus would speak to them as a master, instructing them in all that He would later teach in the Gospel. They were at His feet, so to speak, as never before in a family. Saint Joseph can already recognise in Mary the bride of the Messiah, the One about Whom Saint John the Baptist would say:
"He Who has the bride is the Bridegroom;" and confounding himself in humility, listening to Jesus confide to them the secrets of His conversation with His Father, Joseph could say to himself: "He must increase, but I must decrease. He Who comes from above is above all, he who is of the earth belongs to the earth, and of the earth he speaks; He Who comes from Heaven bears witness to what He has seen and heard," for "the Father loves the Son; and He has given all things into His hand."●
BREAD OF LIFE
In Nazareth, Mary "treasured all these things and pondered them in Her Heart."● She savoured them in Her Immaculate Heart like bread that descended from Heaven, for which the ancient manna was the image. For the Word is no longer silent: "Jesus increased in wisdom and in stature, and in grace before God and man."● He taught His holy parents about the will of His Father, giving Himself as the living Bread, the fruit of Mary's labour when She nursed Him, and of Joseph's toil in earning the bread in the sweat of his face, with which he fed the flesh of the Word made flesh.
Saint Joseph lived in thanksgiving for his holy marriage with the Immaculate Conception, a marriage that God the Father had permitted, blessed, ordained. Her very presence inundated his soul with a sense of mercy, of the forgiveness of the sin of the world that would come through the Messiah, according to the Scriptures. The work that justifies, if there is one, does not consist in washing one's hands before sitting down to eat, nor in abstaining from eating pork, nor in avoiding walking on a grave. The only law of the future Gospel is the forgiveness of offences. "The expectation of the Messiah," our Father told us, "the expectation of the Redeemer in faith could only be materialised in morals by forgiving the offences that others have done to us. 'Forgive us our trespasses as we forgive...' "
This is why Saint Joseph forgave for reasons that were entirely dogmatic, central, eminently spiritual, revealed. He was waiting for the One Who would forgive the world and himself, and in this expectation, he himself had a desire for universal forgiveness.
"Let us go further," said our Father. "How could Jesus be the mediator of divine forgiveness? The prophets answered: By bearing all the consequences of sin upon Himself, that is to say, by enduring on His own back, on His own face, the effects of the malice, the wickedness, the hardness of the hearts of men. He will be beaten, scorned, slandered, and persecuted. Saint Joseph had read and meditated on the prophets Isaiah, Jeremiah and Zechariah. These incomparable oracles had become second nature to him. The Book of Wisdom explains at length how the wicked persecute the righteous man, pushing him to the limit to see if he is really God's son. They go so far as to put him to death to see if he will have constancy and patience, signs of divine mercy. This is the mystery of the Redemption into which Joseph and Mary were entering in advance by forgiving, by suffering all the effects of human malice, by uniting them in advance to the sufferings of the One Who was to come, to those of this Jesus Who 'was subject to them' "●
It was here that our Father lived and died under the patronage of Saint Joseph, prefigured by David, his father, who fled from Absalom and refused to curse him. David awaited the Messiah with compunction and contrition for his sins, as a mediator of God's mercy. If David put his hope in God's mercy to obtain divine forgiveness, it was in the same faith in the Saviour that he drew from his heart the same feelings of mercy and forgave his son.
Brother Bruno of Jesus Mary.
SAINT JOSEPH ALMIGHTY
Saint Teresa of Avila writes in the account of her Life: "To other saints, the Good Lord only gives grace to help us in this or that need; but I know from experience that Glorious Saint Joseph extends his power to all of them. Our Lord wants us to understand by this that, just as He was subject to him in this land of exile, recognising in him the authority of a foster father and a governor, so He is still pleased to do his will in heaven by granting all his requests."
The Gospel According to Saint Luke 1:26-38
The Second Book of Samuel 6:2-12
2 David arose and went with all the people who were with him from Baale-Judah, to bring up from there the Ark of God, which is called by the name of Yahweh of hosts who sits enthroned on the cherubim. 3 And they carried the Ark of God upon a new cart, and brought it out of the house of Abinadab which was on the hill; and Uzzah and Ahio, the sons of Abinadab, were driving the new cart 4 with the Ark of God; and Ahio went before the Ark. 5 And David and all the house of Israel were making merry before Yahweh with all their might, with songs and lyres and harps and tambourines and castanets and cymbals. 6 And when they came to the threshing floor of Nacon, Uzzah put out his hand to the Ark of God and took hold of it, for the oxen stumbled. 7 And the anger of Yahweh was kindled against Uzzah; and God smote him there because he put forth his hand to the Ark; and he died there beside the Ark of God. 8 And David was angry because Yahweh had broken forth upon Uzzah; and that place is called Perez-Uzzah, to this day. 9 And David was afraid of Yahweh that day; and he said, "How can the Ark of Yahweh come to me?" 10 So David was not willing to take the Ark of Yahweh into the city of David; but David took it aside to the house of Obed-Edom the Gittite. 11 And the Ark of Yahweh remained in the house of Obed-Edom the Gittite three months; and Yahweh blessed Obed-Edom and all his household. 12 And it was told King David, "Yahweh has blessed the household of Obed-Edom and all that belongs to him, because of the Ark of God." So David went and brought up the Ark of God from the house of Obed-Edom to the city of David with rejoicing.
Georges de Nantes, Letter to My Friends, No. 99, Christmas 1961.
Georges de Nantes, Letter to My Friends, No. 102, February 2, 1962.
The Book of Isaiah 19:21-22
The Gospel According to Saint Matthew 1:20
The Gospel According to Saint Matthew 1:18
The Gospel According to Saint Luke 1:31
cf. The Gospel According to Saint John 3:29-35
The Gospel According to Saint Luke 2:51
The Gospel According to Saint Luke 2:51
The Gospel According to Saint Luke 2:51